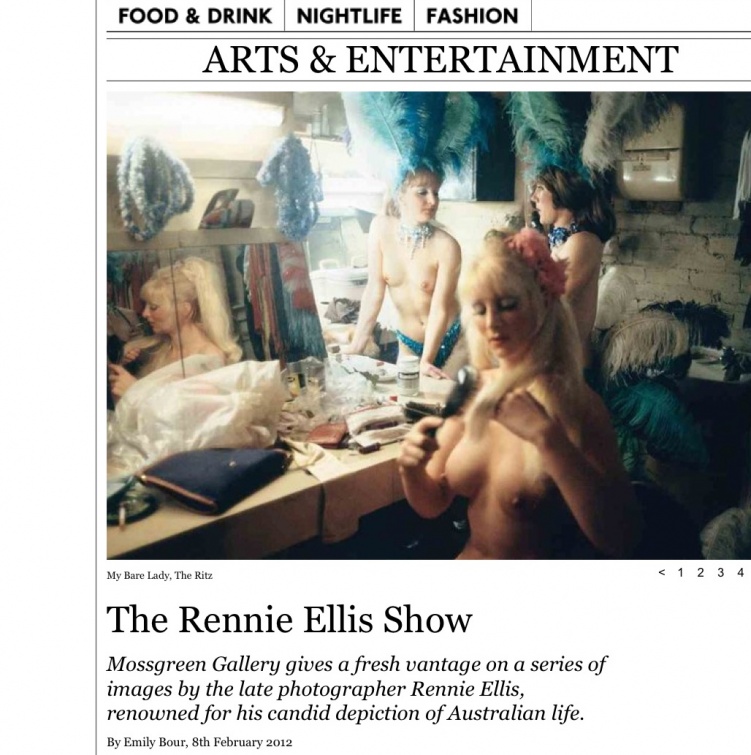 Mossgreen Gallery gives a fresh vantage on a series of images by the late photographer Rennie Ellis, renowned for his candid deptiction of Australian life
This is the Show affirms the title for the upcoming exhibition opening at Mossgreen Gallery this Friday. Drawing on more than 40 years worth of work from the Rennie Ellis photographic archive, the images on show centre around personal identity and that age-old subject of the elusive beauty of the female form.
Ellis points his lens to various activities of the night. We peer inside Midnight Cabaret Shows in Sydney's King's Cross, along with other establishments such as the Ritz in St Kilda, the infamous Maxine's, even into the recesses of New York's streets. There is a definite element of sensuality to these often dark and atmospheric images, but an equally vivid rendering of the fantasy offered by entertainment. They flicker between an animalistic desire for the female form, and a perspective that is also, quite simply, admiring.
Flashing men also feature in Ellis's collection of images, though less extensively. Girls Night Out (1980), taken in Prahran, observes women demonstrating their voyeuristic tendencies as they throw all good manners out of the window. In other places, we are afforded a rare look backstage as Ellis hands us our private pass beyond the careful construct of the stage and the show. In Carlotta & Electra (1970-71) and Backstage Dressing Room (1977) we are allowed to gaze happily into the change rooms of erotic dancers. They smile back, welcoming our presence. But it is My Bare Lady (1977) – the only colour photograph in the series – that truly transcends mere documentation, offering a painterly elegance reminiscent of masters such as Degas.
In the same way that light enters a lens and imprints itself onto the film within the camera, Ellis's vision trickles into the pot of collective memory. These images become more potent with a longer exposure.
This is the Show by Rennie Ellis runs from February 11 to March 3 at Mossgreen Gallery.