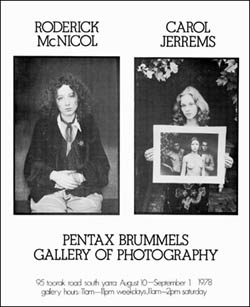 Brummels Photography Gallery
In 1972, Rennie Ellis founded the Brummels Gallery of Photography. The gallery operated as a not-for-profit enterprise and was located above a coffee lounge in Toorak Road in the inner Melbourne suburb of South Yarra.
Brummels was significant because it was the first 'photography gallery' in Australia and it was a venue in which established and emerging Australian photographers could exhibit and sell their work. The opening exhibition, Two Views of Erotica, showcased photographs by Henry Talbot and the then unknown photographer, Carol Jerrems and was officially launched by photographer and renowned filmmaker, Paul Cox.
Read more and view our new Brummels website page...